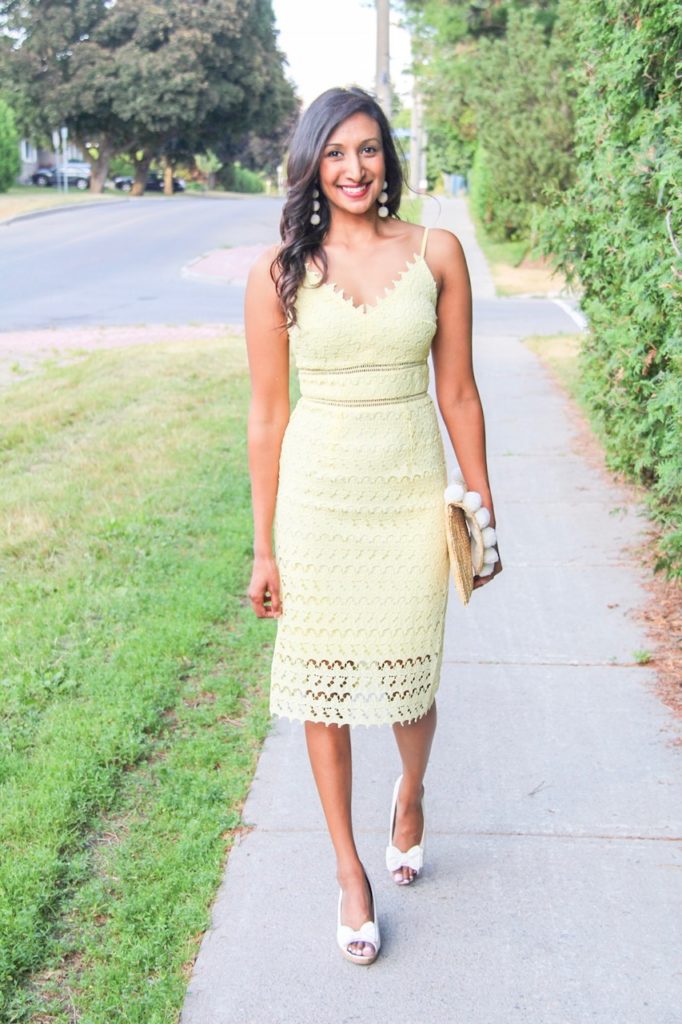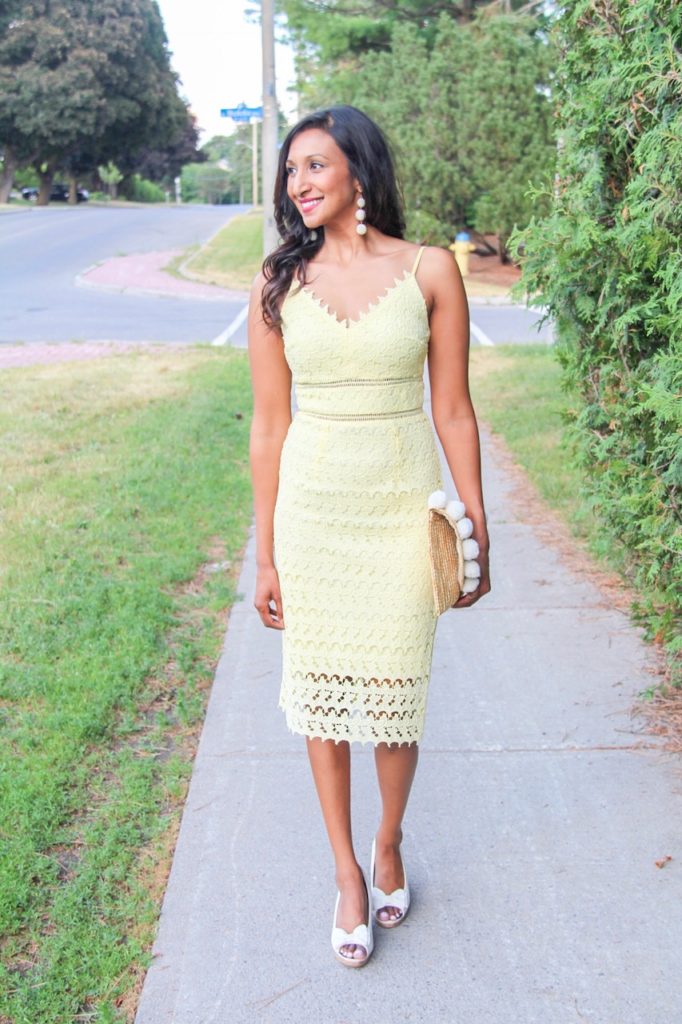 Yellow from the other side . . . okay I'll stop with the Adele puns. Yellow is one of my favourite colours, it's so bright and cheerful and so appropriate for Summer. I was thrilled when I came across this lace midi dress at the Nordstrom Anniversay pre-sale today. I was able to get access to the pre-sale at Nordstrom Ottawa today as I had applied for a Nordstrom Credit card. P.S. Nordstrom credit card holders and approved applicants get  early access to their Anniversary Sale. The sale will be open to the public from July 20 to August 5.
While shopping the sale this morning I spotted this dress and I simply had to try it on, and ofcourse it fit like a glove. I'm wearing a size XS which fits true to size. The dress fits a bit snug as it's a bandage style piece. I have a similar dress in white by Astr which comes in eight other colours 🙂
What initially attracted me to this dress was the colour. I've always loved the colour yellow, especially a pale yellow. When I was a child my grandfather worked for the parliament in Sri Lanka and traveled quite a bit for work. Whenever he'd be away on business he'd always bring me some clothes from the countries he'd visited. As a result I had somewhat of an international wardrobe growing up, comprised of items such as silk pyjamas from China, a safari suit from Kenya, a sailor suit from England and a frilly yellow dress from Cyprus to name a few.
The yellow dress from Cyprus was one of my favourite pieces and seeing this lace dress today reminded me of the dress I'd owned as a little girl.  I remember one time I was running around wearing my dress from Cyprus when I tripped and fell, I was so upset and in tears, not because of my scraped and bloody knees but because I was so concerned I'd ruined my yellow dress. Sounds silly but even as a child I was very particular about my clothes 😉
This particular midi dress is by a brand called Soprano and retails for under $100 CAD including tax. I think it's perfect for Summer cocktails out on the patio or attending a Summer wedding. I especially like the lace detailing as it gives it a feminine feel. The dress is figure flattering and comes with adjustable straps so you can control how conservative or daring the neckline can be. I opted for a more conservative option.
I paired this dress with a straw clutch and some white wedges with a bow detail. In keeping with the white accessory theme I added a pair of white bauble earrings.
What do you think of the colour yellow for Summer?
Shop The Post: