It's that time of year again! Summer = vacation time! I haven't done a fashion blog post in a while so I thought I'd share some of my favourite vacay outfits for 2022!
Tropical print dress
If it were up to me I'd wear tropical prints all year round! Those you know me in person know that I love palm print… well everything. That's why I love this cotton black and white palm print midi dress. It's cotton and comfortable for the warmer summer months, it also works well if you're heading down south for the winter. The midi length makes this dress a bit more classy and formal and I love the bardot neckline.
I picked this dress up a few years ago but I have linked some similar tropical styles below.

High waisted cream pants + Top
Believe it or not neutrals are in for summer. Although I generally love colour I wanted to incorporate some neutrals in to my vacation wardrobe and these high waisted pants in a cream colour were just perfect. I've linked them and many other options below.
I paired it with a one shoulder floral top and flower earrings for some flair. For a more vacay style look I accessorized with a bamboo bag. This look can be dressed up or down depending on the accessories and footwear you choose.

Ruffle Skirt + Tank
I love a good ruffle skirt for summer. Whether it's a mini or a midi ruffle skirts are so cute and feminine for summer. I've had this one for a number of years and wear it every year without fail. It's one of my vacay staples. It's great with a tank top or white t-shirt for sight seeing or strolling around local markets at your destination.
Once again you can dress this up or down depending on what shoes and jewelry you choose. I have worn this skirt with both flats and heels.

Floral Romper
Rompers are a great piece to pack in your luggage for a vacation! They're a cute alternative to shorts and can be dressed up or down. This year I'm loving this floral one shoulder romper from Dynamite. I ordered it online and I am so happy with it. I chose the all over floral print option but it does come in a solid green colour as well.
The one shoulder detail and flowy fabric give this more of a formal look which I really liked. You could wear this on a night out on the town or to dinner while on vacation.

Fancy gown or dress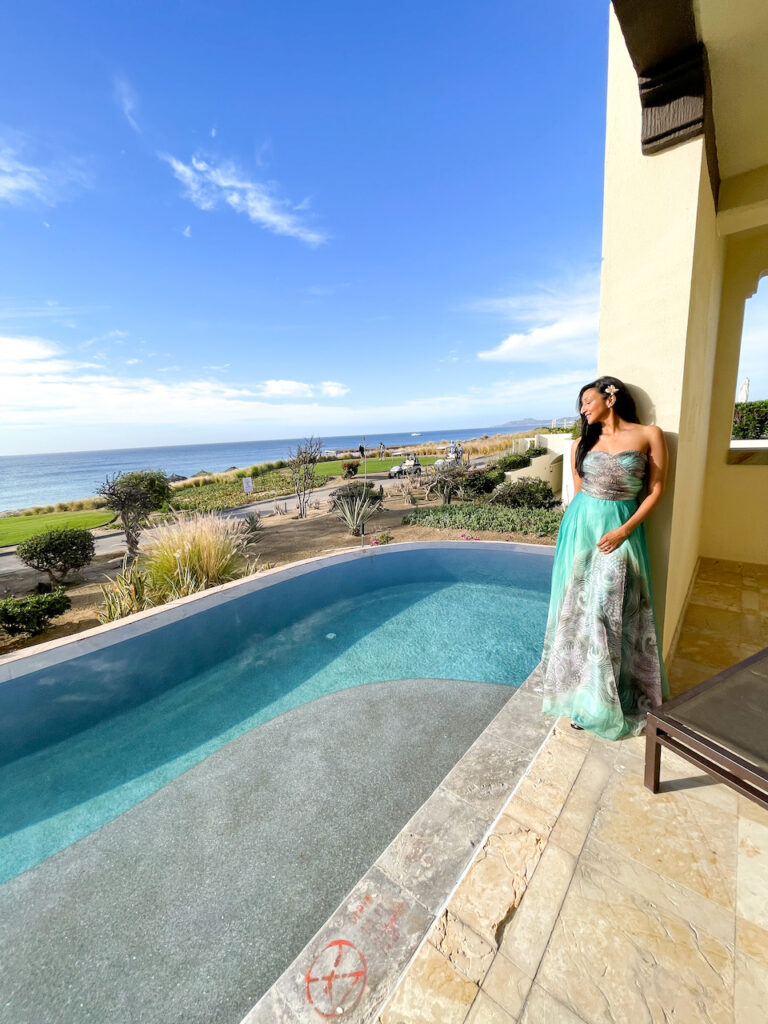 What's a vacation without a fancy dinner? Do we really need an occasion to get all dolled up when on vacation? I think not. I always pack some of flowy gown or fancy dress for any vacation. You never know when an exciting invitation may come your way.
I absolutely adore this strapless geo print teal gown that I ordered on Shein. I bought it especially for my trip to Mexico with Sunwing airlines. It reminded me of the ocean and matched perfectly with our swim out pool.
Another dress I adore is this cute flared skirt embroidered detail dress I ordered online from Le Chateau. I wore this to the ballet on my recent trip to Toronto. I thought the ballet would be a great reason to get all dolled up.
I've linked similar styles for both below.

What are some of your vacation must haves?