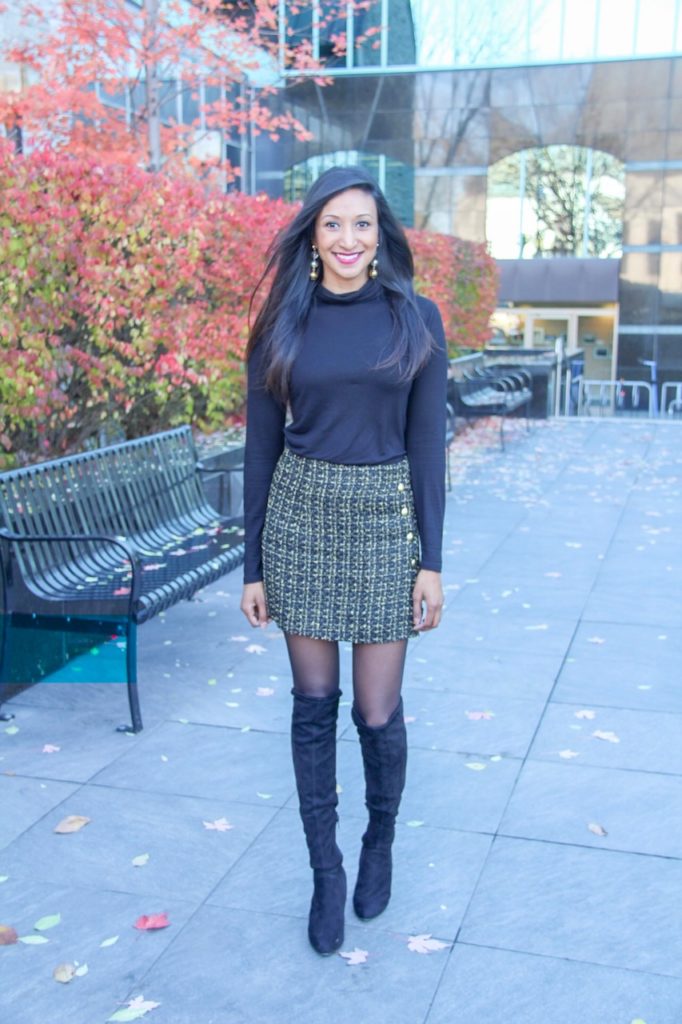 It's  getting to be that time of year again! Fall is fading and making way for Winter, which means Christmas is around the corner. I find everyone dresses up at this time of year and metallics are all the rage this season. I was thrilled to come across this adorable metallic tweed skirt. I found it at Forever 21 and it was so popular it's sold out! But… I've linked some similar pieces at the end of this post 😉
When I first saw this skirt in store it totally gave me the 90's vibes. For some reason this skirt reminded me of something Fran Drescher would wear on The Nanny. As 90's fashion is back in style now I decided to pick it up. I like the gold metallic thread and button details in this skirt which give it a more festive feeling.
I decided to put on a modern spin on this 90's inspired skirt. I paired it with a classic black turtleneck and over the knee boots. Since the weather has gotten a lot chillier in Canada lately, I added a white wrap coat for some contrast.
I know it's been a while since my last post so I'm going to make a genuine effort to post more consistently.
I'll be sharing more of my holiday style finds in the coming weeks so stay tuned!