I love Italian cuisine so when I was thrilled to check out Kara Mia Restaurant which opened its Ottawa location earlier this year. This restaurant is definitely a hidden treasure located in Ottawa's east end.
First Impressions
I was surprised I hadn't noticed this place before. As you walk in the ambiance is amazing. Sashien and I were so pleased with the decor and set up of the restaurant. I actually forgot I was even in Ottawa, Kara Mia definitely gave me major Toronto vibes; which is not surprising since they also have a location in Markham. You could even feel like you're in New York City when you step in to Kara Mia. The lighting, photos on the wall and set up definitely give the place an upscale big city feel.
The staff were also so warm and welcoming and in full compliance of City guidelines concerning COVID-19 protocols.
The Drinks
Kara Mia is open for lunch and dinner and has a large selection of dishes on their menu. We started off with some cocktails, keep in mind this is a Halal restaurant so none of the cocktails actually contain alcohol.  They were delicious none the less and I really didn't miss having a glass of wine with my dinner. Sashien and I both tried the Kara Mia Cocktail which contained mango juice, guava juice and Sprite. I'd definitely try making this at home! Kara Mia also offers a Pina Colada, Strawberry Daiquiri and Peach Bellini as part of their non-alcoholic cocktail offering. You can also choose from some exotic juices on their beverages menu.
The Food
Saffron Poutine
Breaded Shrimp
We started off with some appetizers and our server Ayaan recommended we try the Saffron Poutine which consists of fries covered in Kara Mia's signature Saffron sauce and baked with mozzarella. It was a great twist on a regular poutine. We also tried the Breaded Shrimp which was amazing!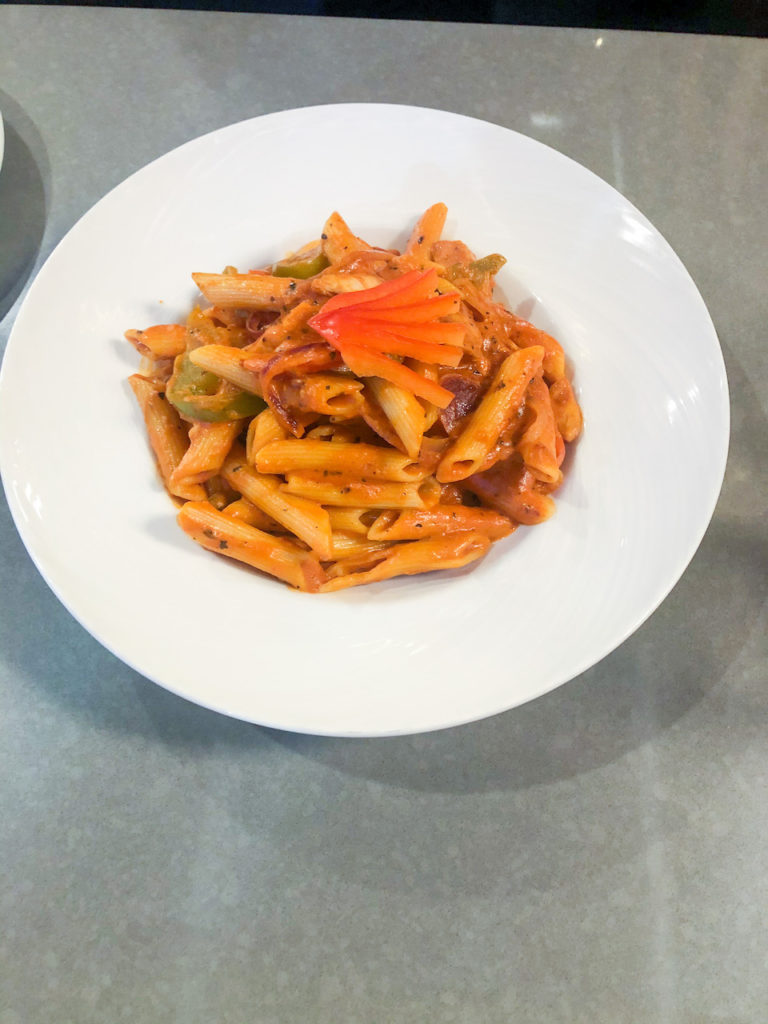 Penne Picante Rosé
Penne Salciccia
For our mains we had to go with pasta because Kara Mia is after all an Italian inspired restaurant. My favourite pasta is Penne so I went with the Penne Picante Rosé. This dish contains diced chicken breast, onions, bell peppers and penne pasta in a spicy rosé sauce. The flavours in this dish were delicious and I loved rosé sauce. Sashien ordered the Penne Salciccia which consists of spicy Italian sausage sautéed with bell peppers, onions, cayenne peppers, finished in a spicy rosé sauce. The flavours in this dish were also amazing and the sausage was well seasoned and cured. We really enjoyed our pasta.
In addition to Pasta, Kara Mia also offers a selection of Burgers, Chicken and Steak dishes. There's also a Kids Menu which adds to the family friendly feel of this restaurant.
The pasta dishes were so filling and the portions were generous so we ended up taking some home as well. We were so full we didn't try dessert but I'm sure it would have been delicious.
The Verdict
Kara Mia is a family restaurant with an upscale feel, serving  flavourful food and offering great value for money. The ambiance is amazing and the prices are very reasonable. There is also ample parking in the plaza nearby. I would recommend adding Kara Mia to your list of Ottawa dining go-to's. The restaurant also offers takeout via Uber Eats and Door Dash. Another service they offer is Catering for events, for details visit their website.
Thank you Kara Mia for this gifted dinner experience we really enjoyed it!