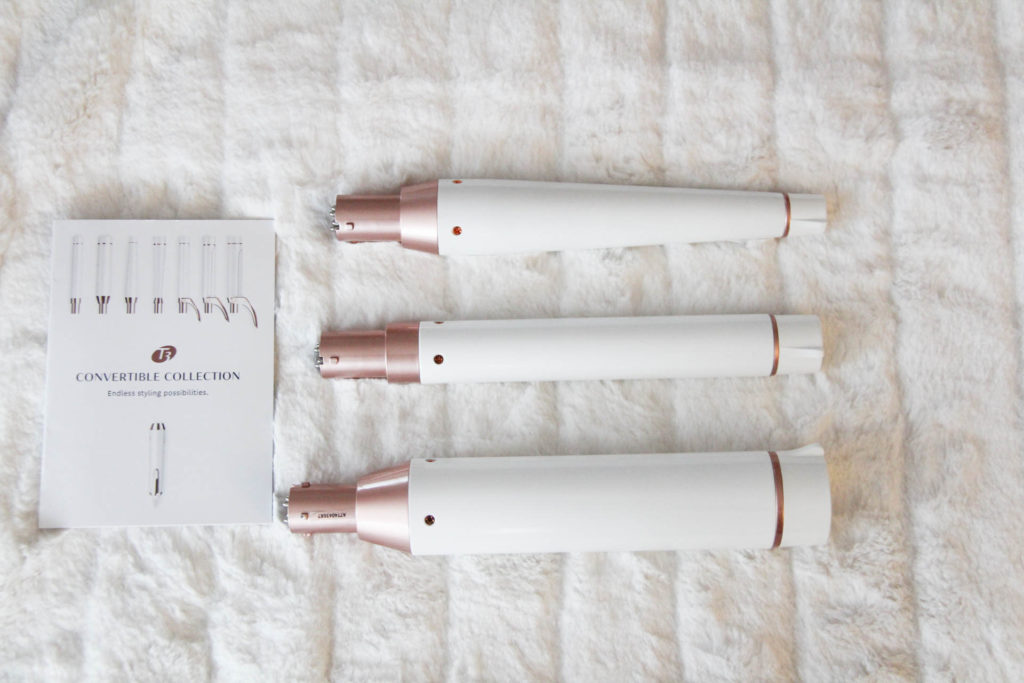 Hair curled using T3 1.5′ straight barrel| Floral Blazer – Dynamite
Hair curled using T3 1′ straight barrel|Dress – Suzy Shier| Purse – Nordstrom
Hair curled using T3 1.25-0.75′ tapered barrel|Purse
If you've been following my blog posts in the last little while you've probably noticed that I've had curly or wavy hair in some of my photos 🙂 I received the T3 Whirl Trio curling iron for my birthday and I've been experimenting with different looks. After using it for about a month and a half I thought it would be good to provide a review since there's so much buzz surrounding this product.
The Product
The T3 curling iron has an expensive look to it. It's actually quite lovely to look at and comes in an off-white colour with rose gold details. The power base has 5 settings and LED lights behind each setting (I usually keep the heat low at setting 2 or 3). The curling iron heats up fast and can get very hot! This product travels well and is dual voltage compatible. I took my T3 with me on my trip to Dubai and was able to use it by adding in a converter plug for the prongs.
The Barrels
The Trio comes with a power base and 3 different types of interchangeable barrels. The 1.25-0.75 inch tapered barrel allows you to create soft tousled waves. The 1′ straight barrel is used for undone waves and the 1.5′ straight barrel creates loose waves.
The power base and the barrels are made of ceramic. One of the distinguishing features of the T3 trio is that the barrels are all clipless, unlike many other curling iron barrels. This takes a little getting used to so there's a bit of a learning curve with this product. You basically wrap your hair around the barrels and hold it in place. The T3 does come with a heat resistant glove which can be used for extra protection.
The Price
T3 products are definitely more expensive than other brands. The trio costs around $350 CAD depending on where you buy it. I believe mine was ordered online from the Bay.
The Verdict
I've used many different ranges of curling irons from the Conair Clip Irons to the Curl Secret however I was never happy with the results from these products. I always struggled with the clip irons as I could never get both sides of my hair to look even and the curl would come apart throughout the day. I tried the Curl Secret which essentially does the work for you but it's time consuming as you can only curl a small portion of hair at a time. This is a limitation of the product as the barrel chamber is fairly narrow. I found the curls lasted longer with the Curl Secret but the process was too tedious.
I have to say I'm extremely happy with the T3 trio. I use the iron on a weekly basis (at least once a week). I tend to use the 1.5′ barrel the most as I like the look of loose waves. This barrel also allows you to curl more hair as it's wider. I would definitely recommend the T3 trio to someone who is looking to invest in a good curling iron. I like the option of having the 3 different barrels, it's essentially 3 different curling irons in one package. I definitely think the product is on the expensive side but I'd look at it as an investment. It's really about finding a product that works best for you and your hair type and the T3 works well for me 🙂
Shop The Post: