I'm back with a new blog post and more travels to tell you about! I spent last weekend in Toronto exploring some Fall and holiday activities around the city.
Sheraton Centre Toronto Hotel
As usual we flew in to Billy Bishop airport on Porter Airlines, it's definitely the fastest way into the city. This time we stayed at the newly renovated Sheraton Centre Toronto. The hotel has a beautiful lobby with two bars(Dual Citizen and 43Down) and lots of space to sit, eat or work.
The room was spacious and comfortable. One of the key features at the Sheraton Toronto is the Club Lounge located on the 43rd floor. Offering sweeping views of downtown Toronto the Club Lounge is open for breakfast, all-day snacks and cocktails in the evening. It's also a great place to relax, work or have a business meeting. You can upgrade your room to include access to the lounge.
We really enjoyed the breakfast at the lounge, the staff were so accommodating and the food was great. I really enjoyed the cold pressed juice made fresh daily in-house!
The Sheraton also offers lost of space for meetings and conferences. The hotel was busy as there were quite a few events going on during our stay but the attention to detail and customer service was amazing!
Activities
This trip was a little more relaxed for us in terms of activities as we were arrived late on Friday evening. Toronto has so much to offer in general, especially around the holidays. I started off my Saturday with some shopping with Laura Ackermans from Your Shop Girl
Your Shop Girl offers personal shopping and image consulting services. There's a number of different packages for women and men that you can choose from. It's also a great service to use if you want to get some Christmas shopping done! Laura took me on a quick tour of the trendy Queen St West area. We visited some local favourites like Horses Atelier, The Latest Scoop and Coal Miner's Daughter.
Toronto is known for its entertainment industry and being home to the Toronto International Film Festival, but the city also offers many other specialized entertainment events. One of them is the Reel Asian Film Festival which features work but filmmakers of Asian heritage. We got to stop by the festival and catch some short films which also included works by South Asian filmmakers.
My favourite activity on this trip was our candle making workshop at Kandl Artistique Yorkville. This trendy boutique offers an olfactory experience! You can shop their existing candles or sign up for a workshop and create your own. Sashien and I really enjoyed the workshop, it's a relaxing experience that's a great date idea as well. The workshop runs about an hour and you get to choose your custom scent and name your candle. Once the candles are poured it takes about 30-mins to an hour for them to be ready for pick up so make sure you have something to do while you wait. The store also offers a cafe with snacks, tea, coffee and wine! Can you guess what I named my candle? The Weekend Fashionista of course!
Lunch
We checked out two spots for lunch on this trip. On Saturday we stopped by Le Sélect Bistro, a cozy French restaurant. This restaurant offers a great brunch menu with some traditional french items. I tried the Croque Monsieur and Sashien had the Beef Tartare. Both were delicious! The cocktails and wine list was also extensive and I was impressed that they had my favourite cocktail, a Kir Royale on the menu.
After our candle making workshop on Sunday,  we stopped by Signatures Restaurant at the Yorkville Royal Sonesta Hotel. The restaurant offers a new menu with items such as grilled shrimp, tacos and ravioli for lunch. Signatures is also a popular brunch spot in Yorkville and offers an elevated dining experience.
Dinner and Drinks
We had two amazing dinners in Toronto. On Friday evening we stopped by 43Down which is located inside the lobby of the Sheraton Centre Toronto. This restaurant is a great high end spot for dinner and drinks and features a new winter menu. We tried their duck fat fries, angus beef tartare and smoked aurora duck drumettes. The food was delicious but the real stars of the show are their drinks.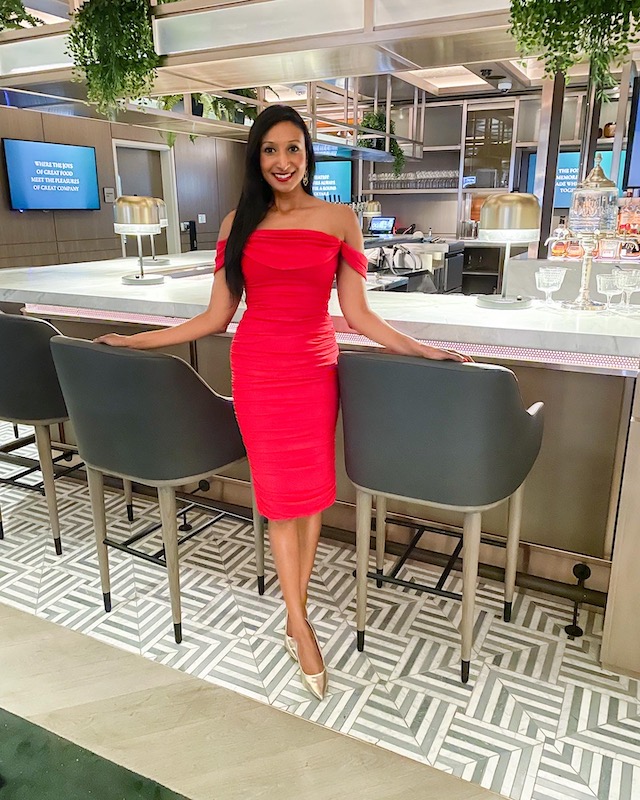 We tried the Boulavardier In Ice which has a really cool presentation where the alcohol is injected into a globe of ice. Once this is done you get to crush the ice and drink it. This is such a special cocktail that only 10 of them are prepared a night, so go early if you want to try it. 43Down also offers great smoked drinks such as the 43rd which comes in a smoke chamber.
On Saturday night we had another amazing dining experience at BlueBlood Steakhouse located inside Casa Loma. This was on our list of restaurants to try so we were very excited to experience it. We both tried the Wagyu beef steaks and they were done to perfection! For sides we went with garlic mashed potatoes and lobster mac & cheese, both so decadent.
The drinks at BlueBlood were also divine and I tried their famous Once Upon A Time cocktail. This truly was a dining experience! Everything from the decor, the drinks, food and ambiance was just perfect! If you're celebrating a special occasion or simply feel the need to get dressed up for dinner then BlueBlood is the place to go!
After dinner we also stopped by Parc Ave for drinks. This new luxury cocktail bar and lounge is located in the Yorkville area and offers high end cocktails. We got there around 8pm but some parts of the lounge opened only at 10pm. If you plan on going to Parc Ave I'd suggest saving it as a late night spot. The bar and lounge are also quite small so it is liable to fill up as the night goes on.
We really enjoyed this weekend getaway to Toronto. If you haven't visited the city yet then perhaps add it to your holiday travel plans. There's so much going on in the city this time of year and a full list of activities and attractions can be found at Destination Toronto. They can also help you plan your trip to the city. A huge thank you to the Destination Toronto team for partnering with us on this trip!