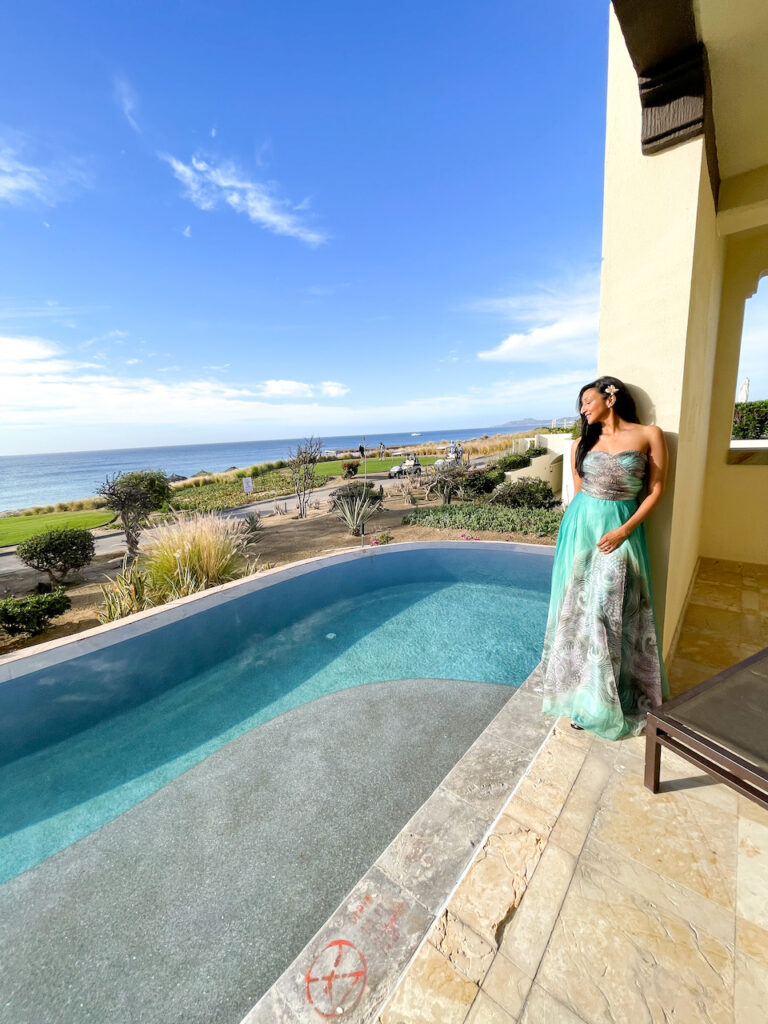 It's been a minute since my last post but I am so excited to be back! I recently went on an amazing trip to Mexico and I can't wait to share all the fun stuff I got to do and try.
The whole travel experience was seamless thanks to Sunwing Airlines and their amazing team here in Canada and on the ground in Los Cabos. Sashien and I flew from Ottawa to Los Cabos via Toronto. Sunwing airlines flies to Los Cabos every Thursday from Ottawa, Montreal and Toronto.
When we arrived in Mexico we were greeted by the Sunwing rep and whisked away to our private transfer which took us to our first resort. We stayed at two resorts during our 7 day trip.
Secrets Puerto Los Cabos
The first resort we stayed at was Secrets Puerto Los Cabos. This adult only resort is the epitome of luxury. Featuring swim out rooms and suites the accommodations at this resort really are fantastic. We stayed in the Master Suite Swim Out room with an ocean view. This spacious suite opened up in to a terrace and pool. It was truly magical taking in the sunrise from our own private pool.
The resort features two different classes of rooms, regular and Preferred Club rooms. The Preferred Club rooms offer  a private check-in/out area, upgraded amenities, butler service and access to the Preferred Club Lounge which also serves breakfast, hors d'oevures and features premium bottles of liquor.
Preferred Club (PC) guests at Secrets Puerto Los Cabos can also take advantage of an exclusive pool, the preferred pool which is ideal for a quiet day by the water. PC guests can also have their breakfast at Oceana Restaurant which overlooks the preferred pool and the ocean.
Aside from Oceana there's lots of dining options to choose from at Secrets. We checked out Himitsu the Japanese restaurant and attended a Tapanyaki show, it was so much fun and the food was amazing. We were also treated to a romantic dinner in the wine cellar at Portofino the resort's Italian restaurant. Another great restaurant at the hotel was El Patio which featured Mexican cuisine. In addition to the restaurants Secrets also offers a wide selection of bars from Manatees Swim Up Bar, to Barefoot Grill and Barrcuda bar. There are so many options to choose from. A full list of bars can be found here 
Besides the pools and restaurants there's also many onsite activities to explore. We enjoyed the Sip & Paint experience and created our own painting to take home with us. We also liked the tequila tasting.
This resort was truly luxurious and magical! We loved the superior accommodations, dining options and most of all the service. A special thank you to our butler Leonardo for making our stay so rememberable.
Dreams Los Cabos
For the second part of our trip we stayed at Dreams Los Cabos. This family friendly resort is about 30 minutes away from Secrets and located closer to the more tourist area of Los Cabos. Dreams is a vibrant and lively resort with many of the same amenities as Secrets. As both resorts are owned by the same company AM Resorts there are many similarities between the two properties.
We stayed in a spacious ocean view Preferred Club level suite at Dreams which featured a furnished balcony overlooking the gardens and sea.  The views from the balcony were stunning and we enjoyed having breakfast alfresco. Although Dreams is a family resort it does feature an adult only pool in addition to the main pool which has a special kids area. An added benefit of the PC level rooms is the private beach reserved for Preferred Club guests.
Dreams also has many great dining options such as Bordeaux restaurant which features French cuisine. We were treated to a lovely dinner at this restaurant, a special thank you to our server Dennis who made this such a fun experience.  Another option for dining is the romantic dinner on the beach experience. This is something that you can arrange through the hotel when you arrive. We had an amazing dinner at sunset on the beach with all the fixings. A huge thank you to our server Manny who made this such a magical evening.
Aside from the many dining options, pools and special services the highlight of our stay at Dreams was the Bali bed experience. These luxury cabanas on the beach feature wifi, a big screen TV and amenities including wait service. The Bali beds can be reserved upon your arrival at the resort by contacting the concierge. There are three different packages for booking these cabanas and each offers different services and amenities.
If you're staying at Dreams Los Cabos be sure to take an excursion out to visit the Arch of Los Cabos. You can take a short taxi or Uber ride to Plaza Paradiso mall where you can board a glass bottom boat to take you to the arch. There's many different tour packages that you can book but if you're in the area I'd highly recommend venturing out to see this notable tourist attraction. We had such a great time on our boat tour and it was one of the most enjoyable activities we did. You can book excursions directly via Sunwing or the hotel concierge.
This was easily one of the most memorable vacations I have been on. Thank you Sunwing Airlines and AMResorts for sponsoring this trip.