I'm back, after a long break! I can't believe we are already halfway through January 2023. This year is just flying by. I took a break from blogging and campaigns for the month of December as I was on vacation. I'm back in Canada now and I can't wait to tell you all about my trip to Sri Lanka! As some of you know I was born in Sri Lanka.
Getting There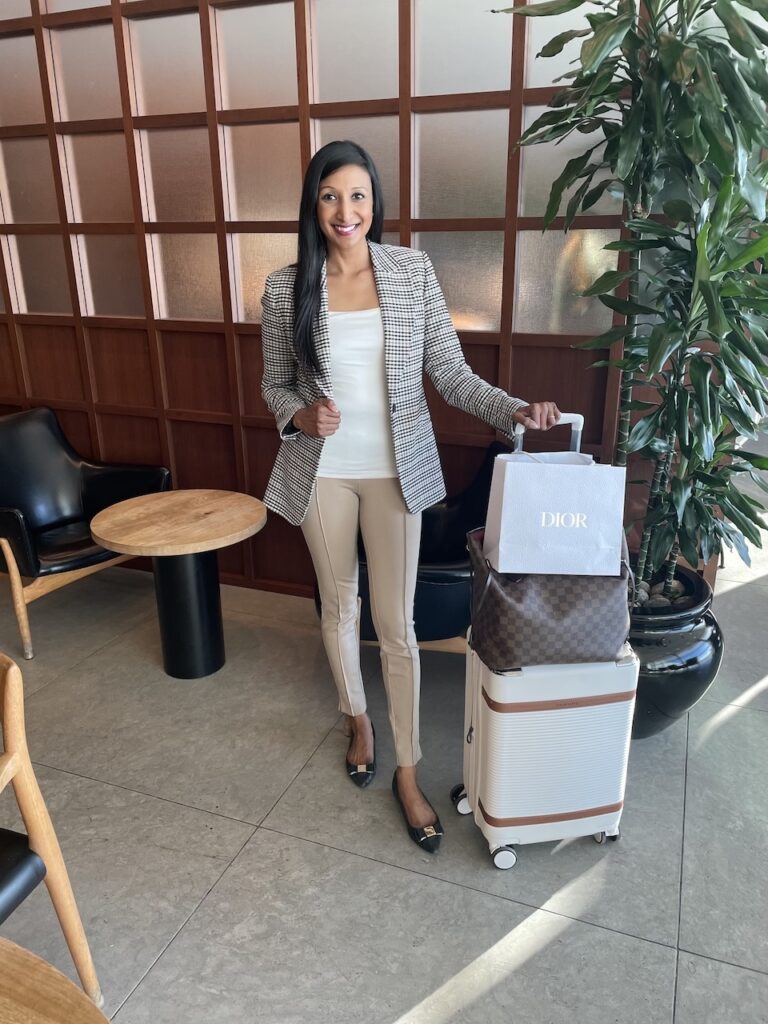 I'm not going to lie, it takes a while to get to Sri Lanka. In total it's about 18 hours of flying and when you factor in transits it takes about 24 hours to get there. There's many different routes you can take from Canada but as I live in Ottawa I flew through Europe. In the past Air Canada offered direct flights from Ottawa t0 London, UK and Ottawa to Frankfurt but they've since been discontinued. I decided not to take any chances with my luggage getting lost via a domestic transfer in Canada so my mom and I flew directly to London from Montreal and then directly from London to Colombo. We flew two different airlines, Air Canada to London and Sri Lankan Airlines to Colombo.
Pro-tip – we were able to find a great deal on roundtrip business class tickets on Google Flights and purchased our tickets directly from the Air Canada website. I'd totally recommend this splurge as you are going to be flying for a long period of time.
There's many other routes you can take into Colombo including via Dubai, Qatar, Japan or Singapore depending on which end of Canada you're traveling from.
Accommodation
I stayed at two main hotels during my time in Colombo and did some short trips around the island. The first hotel I stayed at was Cinnamon Lakeside. I had been to this hotel for the restaurants and high tea many times but this was my first stay at the hotel. It's great as a dining option but I wouldn't recommend it as a stay. The rooms were a bit smaller, dated and not soundproof.  I was only there for a week as I had a wedding to attend at this hotel. The event spaces and venues here are great though, just not the guest rooms.
I spent the rest of my 4 week stay at my go-to hotel Cinnamon Grand Colombo. My family has been staying at this hotel since 2008 and they never disappoint. The hotel is arguably the best hotel in Colombo with 501 guest rooms, 9 restaurants, 2 pools, a gym, tennis court and lots of green space. It's also very centrally located and is really more of a resort in the city.
Pro-tip: If you upgrade your room type to an executive floor room, you have access to the exclusive executive lounge. The lounge is only open to executive room guests and offers complimentary breakfast, high-tea and cocktails daily. Totally worth the money. And as an added bonus you also have the option of having breakfast in the lounge or heading to Plates, the hotel's buffet restaurant, if you want a wider selection.
The executive rooms also come with 24hr butler service!
Things to do
Sri Lanka has SO MUCH to offer! It's definitely not your typical beach vacation. Despite all the negative press this country has received lately (much of which is over exaggerated) it's a wonderful place to visit and there is truly something for everyone there.
If you're looking to just relax you can head to any of the beaches in the country, but if you also like surfing and more of that island vibe you can check out Unawatuna, Hikkaduwa or Mirissa. You can also stop by the historic city of Galle. Want to learn more about our culture? Be sure to visit some historic sites like the Sigiriya Rock Fortress, arguably the 8th wonder of the world. You can also check out the ancient cities of Anuradapura and Polonnaruwa. Don't forget to visit by the Temple of the Tooth in Kandy as well. If you're tired of the warm weather, head to Nuwara Eliya. Known as little England this part of the island is cooler that the rest of the country with temperatures between 5 and 20 degrees celcius depending on the time of year.
Finally if you're like me and love shopping then Colombo is the city for you!
I found this list of places to visit online.
Yala Safari
Sashien and I wanted to try something a bit more adventurous so we took a drive down to Yala National Park on the island's eastern side and went on a safari. We stayed at Jetwing Yala which is a hotel located inside the park itself. There's many hotels to choose from in Yala, some of which are situated inside the park.
It took us about 4.5 hrs to get to Yala by car from Colombo and we took the highway there. We booked a private safari online and our guide picked us up at the hotel. We booked our safari on this website: https://www.yalasrilanka.lk/yala-safari-ride
Please note: there are different prices for tourists and locals, this practice is quite common in Sri Lanka. The safari booking does not cover tickets to the park so you do need to pay for those as well.
We booked the half-day afternoon safari and it was 4 hours long from 2-6pm. We had the whole jeep to ourselves and really enjoyed our time. We saw so many different types fo animals. I've recapped our safari in this reel.
The hotel was also beautiful and we loved the nature and beach views at breakfast. Jetwing Yala had more of a rustic feel to it, not my favourite type of aesthetic but it was clean and modern. They also offer a safari camp but it was closed for renovations when we were there.
Anantara Kalutara
We also visited Kalutara which is  about an hour away from Colombo. Unlike Yala this was a more relaxed trip. We decided to stay at Anantara Kalutara. This resort is beautiful and offers views of the lagoon and the sea. We stayed in an ocean view room which was spacious and luxurious.
The staff were very helpful and accommodating. We especially enjoyed their welcome ceremony where each guest was asked to light the traditional oil lamp while a drummer played and blew a conch shell.
If you're celebrating a special occasion the hotel also has a beautiful treehouse which is the perfect setting for a romantic meal overlooking the lagoon. Sashien surprised me with an anniversary dinner complete with fireworks and a custom menu put together by the hotel.
The hotel also has two pools one that's for families and one that's adults only. We decide to stick to the adults only side as the other pool was quite busy.
Christmas and NYE in Colombo
We spent Christmas and New Year's Eve in Colombo and it was epic! Sri Lankans love a good party and this year they went all out for Christmas. All the streets in Colombo were decorated and all the hotels had their own Christmas displays. My favourite display was the Home for Christmas installation at the Hilton Colombo. It really got me into the Christmas spirit.
For NYE we decided to go for an indoor party (there's so many outdoor beach parties to choose from if you prefer a more casual setting) since it was warm outside. We purchased tickets to the Cinnamon Grand Dinner Dance hosted in the grand ballroom. The ticket included a buffet dinner, drinks at the table, live band + DJ and breakfast buffet. It was amazing and we loved it! I have never seen that much food in one room in my life! The party started at 9pm and went on til the wee hours of the morning. We left around 4 am and it was still going strong! What a fantastic way to kick off 2023! I've attended the dances at this hotel in the past and they never disappoint.
The Verdict
If you're looking for a one of a kind tropical experience that's not your run of the mill beach vacay then Sri Lanka is the place for you! You will definitely get your money's worth at this luxury vacation destination! It's also important to note that if you do invest in going to Sri Lanka you understand that it is very much a luxury destination despite some of the "budget travel" content you may see from travel bloggers and backpackers. Local vendors do need to be supported so please be kind shop local!
I'll be sharing everything I bought on this trip on my Instagram stories so stay tuned! Feel free to ask me any questions about the trip as well.