It's been quite a while since my last blog post, but I'm back with a great new recommendation for you. Life has certainly been busy with lots of changes and updates, I'll post about those later but first it's time for some relaxation.
I recently discovered Soho Residences. They offer luxurious fully furnished suites in central locations in both Ottawa and Toronto. Locations in Ottawa are Soho Lisgar and Soho Champagne. The Soho Hotel is located in Toronto. I had previously stayed at Soho Lisgar, which is a great downtown location just steps away from restaurants, grocery stories and many Ottawa tourist attractions. This past Victoria Day long weekend Sashien and I had the opportunity to check out Soho Champagne, located in the heart of Ottawa's Little Italy and featuring beautiful water views of Dow's Lake and the Tulip Festival.
The Suites
The suites at Soho Champagne are spacious and provide ample room for rest and relaxation. Soho residences have one and two bedroom suites which feature separate areas for living/work and sleeping. Having traveled extensively for work I really appreciated the larger suites and designated areas for work and relaxation. I found the Soho suites much larger and more homely than a traditional hotel suite. Our two bedroom suite had a fully equipped kitchen including plates, glasses and cutlery. With Soho you have the option of making a home cooked meal while away on business or a vacation, I really liked this feature. The suites are also great for business meetings and entertaining.
Our suite had one master bedroom and one smaller bedroom. The master bedroom had a large closet and an ensuite bathroom. I loved the marble finishes in the bathrooms. All Soho suites feature carefully curated interiors by Gluckstein design. The high end features and finishes in these suites really speak for themselves. The master bedroom also featured a second walk in closet which could double as a home office area, so useful with most of us working from home these days! The smaller bedroom was also spacious and featured a great water view of Dows Lake.
The living area was comfortable and the wall to ceiling windows and gorgeous views of Dow's lake from the couch. The balcony in this suite was quite extensive with access from the living room and master bedroom. I thought the private balcony off the master bedroom was a really nice design feature. The kitchen in our suite was fully equipped and we were able to enjoy a few meals at the counter. I've always loved a white kitchen so I especially liked the design of this one. Having a fully stocked kitchen really helped us feel at home and not like we were at a hotel. I love the fact that Soho Residence offers guests a luxurious boutique hotel experience that's still homely and comfortable.
The Amenities
No luxury experience is complete without amenities right? Soho Residences certainly doesn't disappoint. Soho Champagne features a gym, private movie theatre, coffee lounge, executive meeting room and rooftop terrace. The rooftop has a BBQ and a hot tub, perfect for Summer relaxation. The Champagne location also features The Champagne Club which is a great event space featuring a lounge, library, catering and fireplace. I attended an event at the Soho Champagne Club and the space is great for entertaining.
Photos courtesy of Soho Residences
In addition to these amenities Soho properties feature a personalized concierge, housekeeping facilities and parking garages. Our check-in was really smooth and easy. We were provided with a lockbox number and code where we found our suite keys, parking pass, welcome letter and garage access fob.
The Experience
Soho Residences provide guests with a luxurious hospitality experience. From the glamorous interiors, to their spacious suites and enticing amenities Soho Residences is an experience to be enjoyed. I fully recommend checking out either their Lisgar or Champagne locations if you're visiting Ottawa or if you just need a staycation. Both locations are great for business travel as well featuring complementary high speed internet and smart TVs with cable and PVR connections.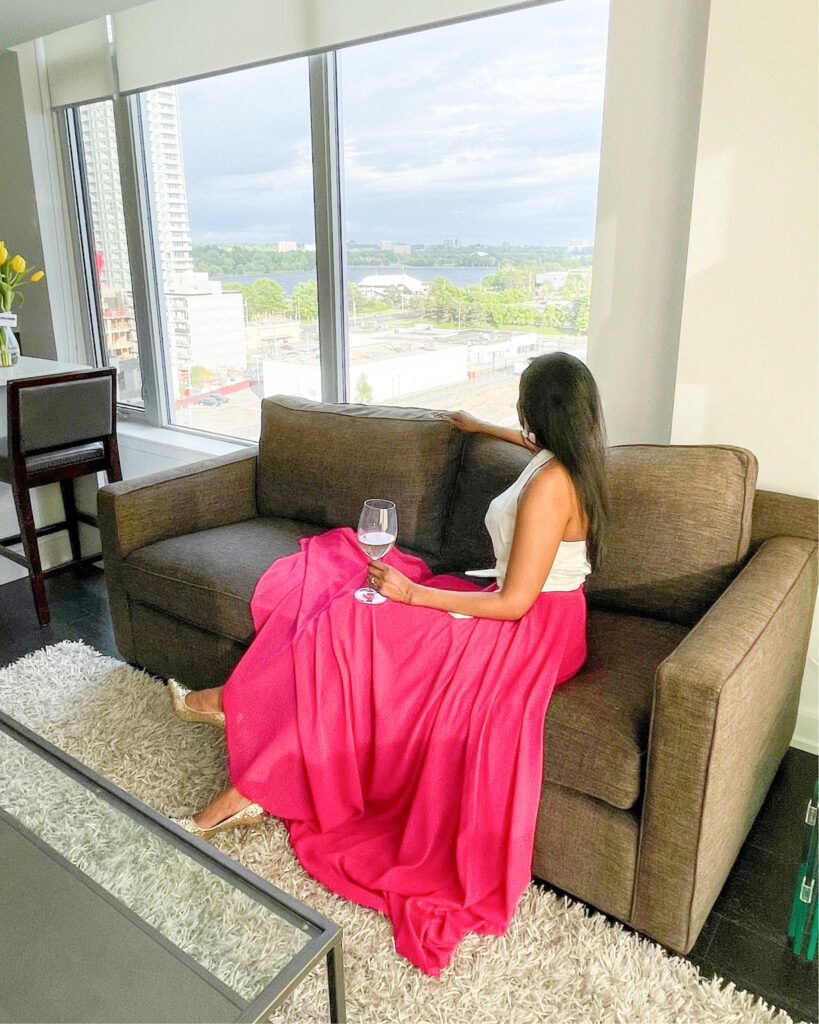 Looking to stay longer than just a few nights? No problem! Soho Residences features extended stay suites as well. Special pricing and savings can apply for longer stays. This is a great option for anyone who is relocating.
We really enjoyed our staycation at Soho Champagne, thank you to Anna and the Soho team for hosting us and making our stay such a memorable and relaxing experience.