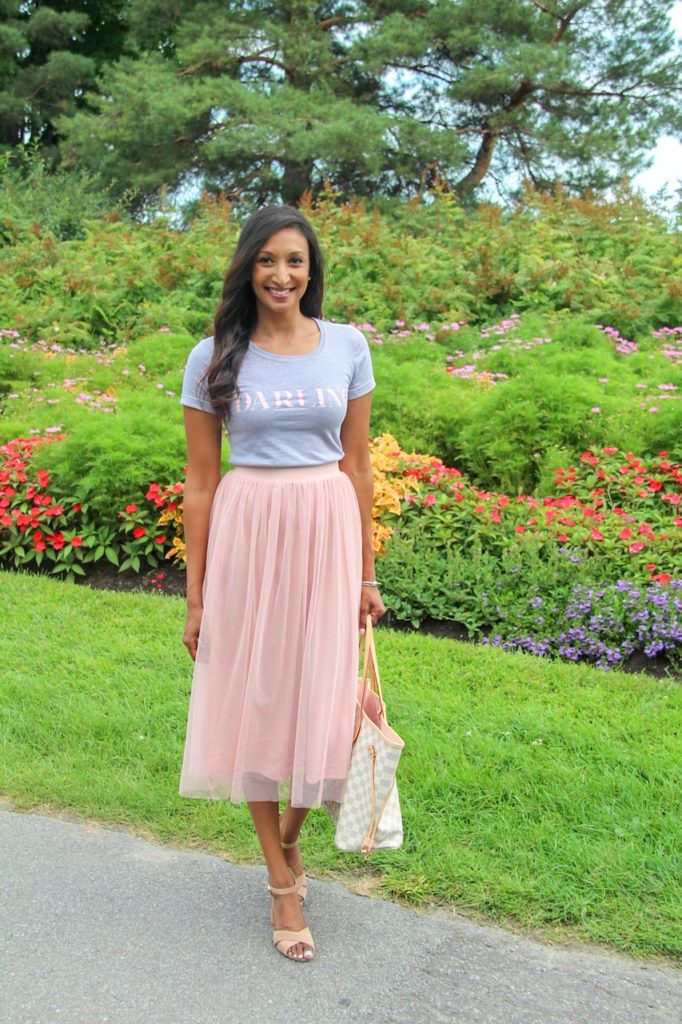 I don't know about you but I love a good slogan tee. I'm so excited to share my collaboration with BBXCollection this weekend, where I helped model some of their adorable slogan tees. BBXCollection is an Ottawa based retailer that specializes in slogan shirts for everyone! BBX is owned and operated by certified boss babe Megan Racicot. I love the cute slogans on her products and the tees are so comfy and easy to wear. Megan also has you covered for your bachelorette party with her bridal line.
For my shoot with BBXCollection I modeled the Turn Down for Brunch and Darling tees. I thought the slogans were so me as I totally love brunch and well darling is just so cutesy! Watch for the photos from my shoot on their Instagram page and website.
I particularly liked the Darling tee with the pink lettering. I wanted to style the t-shirt based on the pink so I drew some inspiration from Sarah Jessica Parker's tutu skirt in the opening sequence the show Sex and the City.
I just happened to have a pink midi skirt that paired so well with the t-shirt. As tees are typically dressed down and more of a casual piece I thought of going for a dressed up or formal and feminine look. I added a pair of nude block heels to dress up the outfit and add a more girly feel to it. To accessorize I brought along the newest addition to my purse collection, the Neverfull in white (totally an investment piece). I felt so light and airy in this outfit I literally just wanted to twirl around all afternoon 🙂
If you haven't already done so make sure you check out BBX online and on Instagram, you may just find your new favourite t-shirt.