It's officially September and I can't wait to write about the hottest trend for Fall 2020. You guessed it, it's leopard print. I've been totally obsessed with leopard print lately. I never cared much for the print in previous years but this year there's so many interesting ways to wear it I'm all in on this trend.
Here are some of my favourite ways to wear leopard print this Fall.
Look 1 – Comfy and casual tee
I found this leopard print t-shirt on amazon. It's one of my favourite Fall pieces as it's so versatile. Since we still have a few warm days left I paired it with a some jean shorts and my go-to Tory Burch flip flops. I accessorized with a hat for more of a Fall touch. You can also wear this tee with distressed blue jeans or black leggings and even throw a cardigan over it as the weather gets cooler.
Shop The Look

Look 2 – Weekend maxi skirt
I came across this skirt while shopping at Suzy Shier. I was a little apprehensive at first but I'm so happy I decided to pick it up. It's so comfortable and easy to wear for a relaxed weekend look. I have literally worn this outfit for the past two Saturdays. I paired the skirt with a simple white tank top and a jean jacket. To accessorize I added my fave Tory Burch purse and flip flops. You can also dress this skirt up by pairing it with a black long sleeved bodysuit or turtleneck and some booties.
Shop The Look

Look 3 – Nighttime Glam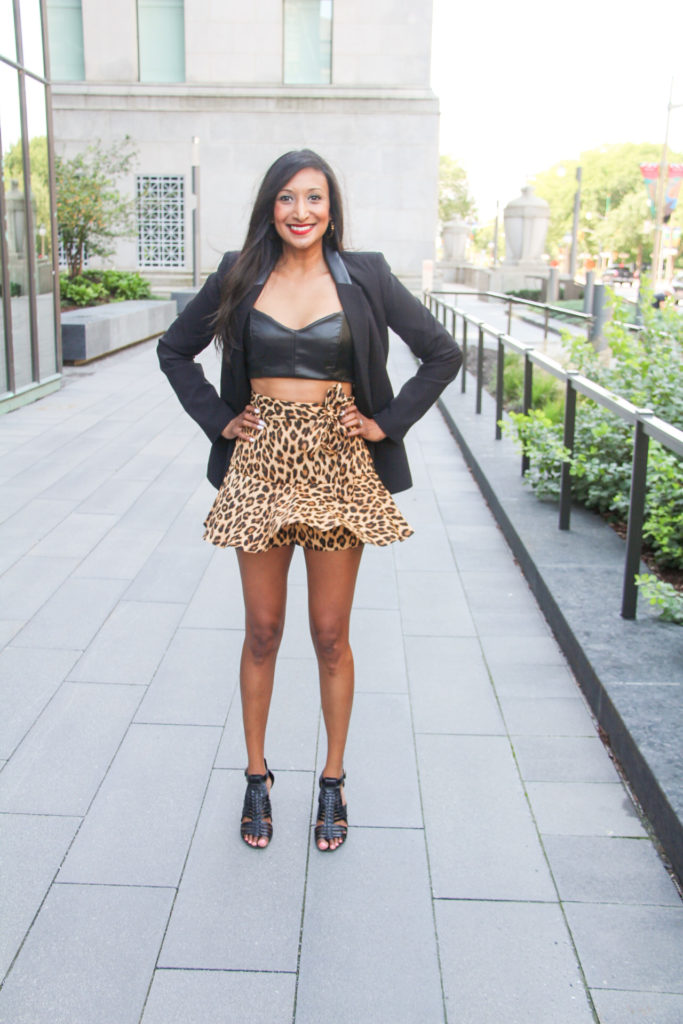 This is definitely my favourite leopard print look! I picked up this skort at Zara, I initially thought it was a skirt but was thrilled to find out it came with shorts 🙂 This is definitely one of the edgiest looks I've worn. I paired it with a pleather crop top which I also found at Zara and a blazer with pleather detailing that I had in my closet. This is a great look for a night out. For cooler weather I would pair the skort with some sheer pantyhose and pumps. You can also switch out the crop top for a black bodysuit or turtleneck.
Shop The Look

Which of these looks is your favourite?