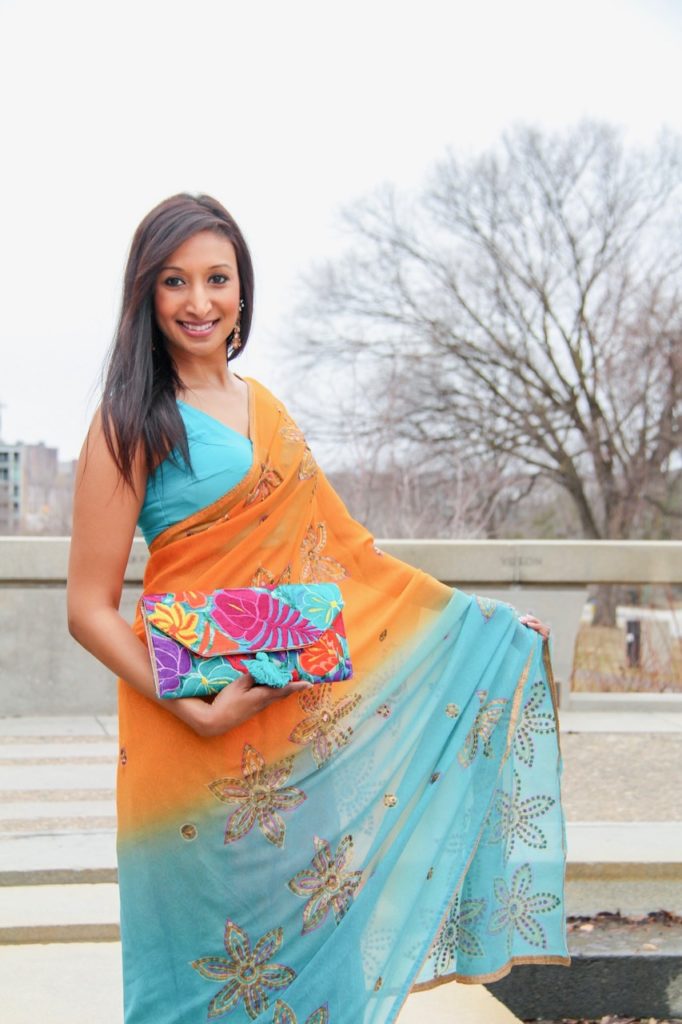 Spring has finally arrived and although it certainly hasn't felt like it this week, I decided to take some photos outside in the name of an East meets West photoshoot. I've been meaning to do this shoot ever since I received a beautiful hand made clutch from Frida's Attic last Fall.
I was fortunate enough to connect with Frida's Attic founder and owner Adriana on Instagram last year. I'm so excited to be working with this Ottawa based entrepreneur. Her focus is slow fashion in a trendy world. Adriana sources pieces from her native Mexico and all the items in her collection are carefully selected by her personally. I'm a huge fan of the vibrant colours and intricate designs of her clothing and accessories. You can read more about the collaboration I did with her last year by following this link – Collaboration with Frida's Attic 
I've always wanted to do an east meets west fusion fashion shoot. The moment I received my clutch from Frida's Attic I knew exactly which eastern piece to pair it with. The colours in this clutch complemented one of my sarees perfectly. I don't get to wear sarees very often in Canada so it's taken me a while to get around to shooting this look. I love how seamlessly these two pieces blend together. It almost seems like I picked up the saree and the clutch at the same place. I chose this saree because of its bright colours and beading. This entire look reminds me of a warm Summer day, although it was very cold and windy outside. I put on a brave face for these photos 😉
I admire the slow fashion concept behind Frida's Attic and the fact that the pieces can be worn with so many different styles and genres of clothing. This particular look is just one of the ways you can incorporate Frida's accessories in to your wardrobe. I paired this clutch with a saree but you could also carry it with jeans and a white tee or a Summer dress. It's a great statement piece as well.
If you liked this look check out Frida's Attic online and on Instagram.
What are your thoughts on fusion fashion?