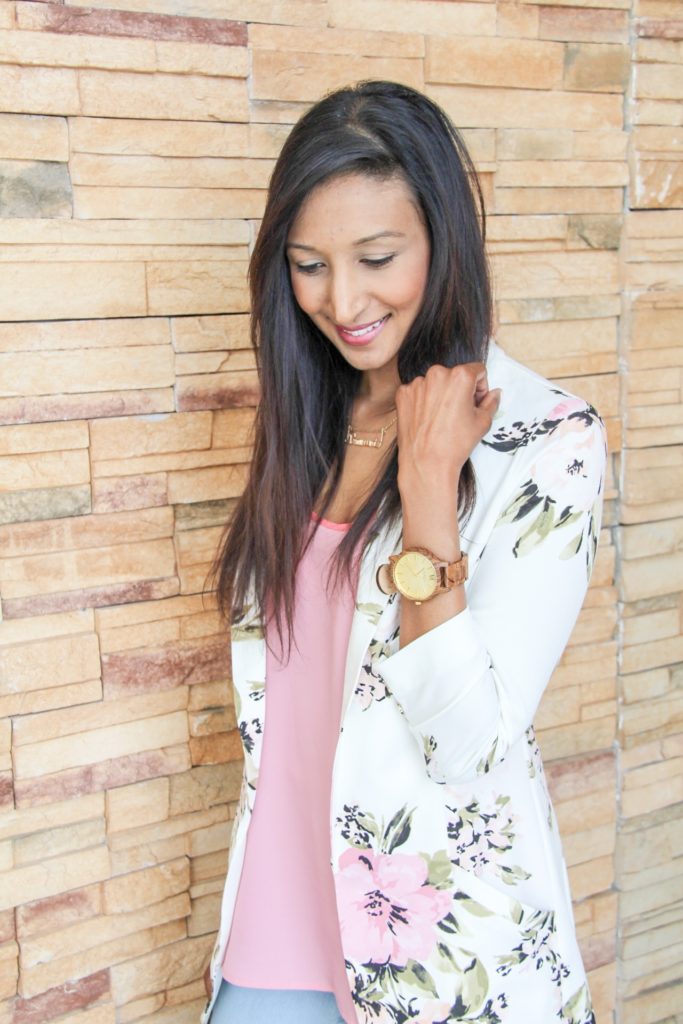 It's officially the first day of Spring! I don't know about you but I'm ready for Winter to be done! In hopes of better weather, I've already started shopping for my Spring wardrobe. I love all the spring accessories I'm seeing in-stores lately. I'm currently loving this wooden watch from JORD.
My watch is part of the Frankie Series by JORD and I chose the Zebrawood and Champagne combo. I love the warm tone of the Champage face and the markings on the Zebrawood band and links. The best part about this watch is how lightweight it is. The wood is so light and smooth that you barely realize it's on your wrist, unlike stainless steel or metal watches than can weight your wrist down and even cause skin irritation. This timepiece is a truly unique and functional piece of jewelry. It's also a great conversation starter and statement piece. You'll definitely stand out from the crowd with this accessory.
If you loved the wooden and bamboo bags that were all the rage last Spring and you've alreayd picked up some straw bags for this Spring well then the only item you're missing is a wooden watch from JORD. With its minimalistic design and wooden links this watch goes so well with any Spring bags or shoes. It's subtle enough to blend in yet novel enough to get noticed – so you can really pair it with anything, which is one of the features I love about this watch. I wore my watch with a floral blazer from Dynamite that's just perfect for Spring. I paired the blazer with a pink cami and light jeans to give my outfit a muted pastel look. My watch fitted right in with this on trend outfit and matched perfectly with this circle bag I picked up at Simons.
If you love the wooden watch trend as much as I do I've got great news for you! I've teamed up with JORD to give one lucky winner $100 off their very own JORD watch! You can enter the contest using the link below. If you follow me on Instagram you can also find the link in my bio You'll also get a promo code for 10% off your order just for entering 🙂